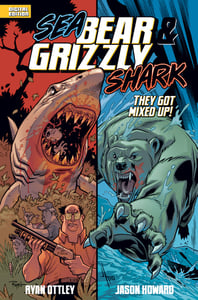 $

2.00
They got mixed up! The summers craziest comic book hit is now available as a digital download that you can read on your iPad, iPhone, Laptop, or any other PDF reader.
Finally get your chance to read the sold out tale that iFanboy.com picked as one of their top 10 comics of 2010. Aint It Cool News says, "exceptional art and a wildly unique story you simply won't find anywhere else."
Do not go out at night: Grizzly Shark lurks in these woods. There are many dangers of the deep, but none so deadly as the Sea Bear. Thrill to the adventures of these mixed up creatures. Told in two full-length stories written and illustrated by Ryan (Invincible) Ottley and Jason (The Astounding Wolf-Man) Howard. Featuring a prose origin by Robert Kirkman! This digital edition includes the second print cover and exclusive early production sketches by Ryan Ottley!
To see preview pages or to read interviews and reviews check out www.theygotmixedup.blogspot.com
PDF
54 pages
black & white with color covers
6.8 X 10.4